Spend time on your experiments, not your equipment
Stable Laser Systems is the premier supplier of components and systems for frequency stabilized lasers at any wavelength. We design robust breadboard, fully integrated, and lightweight, transportable rackmount systems with low frequency drift at sub-Hz to Hz linewidths for research laboratories, industrial settings, and field applications. From fiber-coupled cavities, transportable vacuum systems, PDH detectors and noise-cancelation electronics to Hz-level Ti:Sapphire systems and rack-mounted, auto-locking 1550 nm systems, we have the expertise to engineer your ideal system in a fraction of the time. Call us today to discuss your unique frequency stability needs.
Learn about our options for customization
New Products Showcase
Test
Cras eget leo dapibus, rutrum lorem porttitor, semper nibh. Quisque sed scelerisque magna. Quisque bibendum rutrum dolor, nec posuere orci finibus sit amet. Sed sed orci id est malesuada tincidunt eget ornare ipsum. Mauris vel libero magna. Nulla facilisi. Vestibulum nec ipsum arcu. Donec iaculis ligula at finibus feugiat. Donec vitae suscipit velit, sit amet vulputate sem. Aliquam a magna ac nisi viverra laoreet. Proin ante nisi, auctor quis scelerisque eu, tincidunt at ligula. Sed dapibus vulputate leo a semper. Praesent sodales nulla nec sapien tincidunt, quis vestibulum risus varius. Learn More
Another Test
Etiam fermentum, tortor vel elementum bibendum, diam dolor lacinia lacus, ac aliquet eros lacus eget nisl. Nulla elementum neque eu leo pellentesque tincidunt. Integer quis tempor arcu, vitae convallis elit. Donec consectetur commodo neque et auctor. Sed auctor scelerisque ultrices. Duis tempus finibus vestibulum. Cras tempor aliquet ipsum, auctor elementum nibh scelerisque sed. Curabitur nec metus posuere, suscipit nisi non, cursus ante. Curabitur vestibulum lacus et dictum rutrum. Quisque lorem felis, commodo nec ante nec, consequat placerat urna. Praesent nec bibendum risus, quis accumsan mi. In accumsan bibendum quam, vitae vehicula urna imperdiet eu. Nullam non molestie purus. Learn More
Visit Us at DAMOP

June 1 – June 5 2020
Portland, OR
Unprecedented Commercially-Available Stability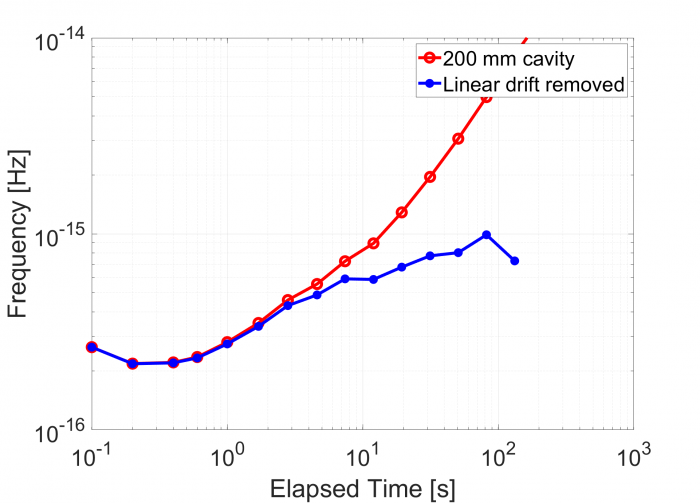 Allan Deviation of a 200 mm ULE cavity spacer, derived from a three-cornered hat measurement. This laser system uses a 1550 nm fiber laser, locked using SLS's versatile FPGA locking electronics. The red points are calculated using no drift removal, and the blue points are after the cavity drift of ~80 mHz/second is removed during analysis. This drift may also be removed via feed-forward using the FPGA locking system, for drift-free performance.